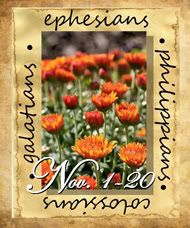 Very excited to take part in this new bible study. So many firsts for me today-this is my first online bible study!

we will be studying Galatians, Ephesians, Philippians and colossians starting today through November the 20th. This list includes four of my favorite books!
as I read Galatians 1 today I was refreshed by the greeting Paul gives the Galatians and
"...So I greet you with the great words, grace and peace! We know the meaning of those words because Jesus Christ rescued us from this evil world we're in by offering himself as a sacrifice for our sins. God's plan is that we all experience that rescue. Glory to God forever! Oh, yes!"
Galatians 1:1-5 the message
Thank God for his great sacrifice that rescued us so that we can enjoy his grace and peace!
The end of the chapter is the verse that has stuck hardest with me today. I wonder do others recognize and praise God because of me?
There was only this report: "That man who once persecuted us is now preaching the very message he used to try to destroy." Their response was to recognize and worship God because of me!
Galatians 1:24